Free eBook with ways to be happy at work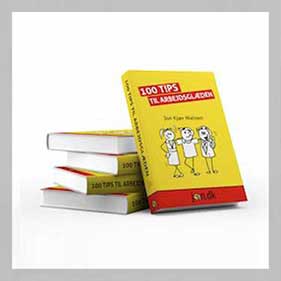 For years I have been collecting specific ways to go about being more happy at work. My collection now exceeds 150 specific tips and tools, and 100 of these have been published in my native Danish language, with English and German versions on the way. As a sampling of what's to come I've put together a dozen extra tips in a free, 30-page eBook, illustrated with original artwork by Bo Secher. I hope this will inspire people to take action and create the kind of day you want.
Get your copy now – 112% free!
Passion into action
The tips I have collected are either seen in the field at some of the many workplaces I have visited, or they have been proven useful through experiments conducted by researchers. I love sharing my passion about happiness at work and handing out inspiration through stories and cases at my talks, seminars and workshops, but I want you to BE more happy at work, and that requires action.
That's why I am so focused on specific tools you can use, and that's why I'm giving them away. If you sign up I'll also send you a newsletter with more tips from time to time, and you can always opt out with a single click – there are really no strings attached here. So get that eBook and take some action.
Got it? Maybe read it? I'd love your comments – share the love!