HW 010: The Happiness Advantage – a view on the writings of Shawn Achor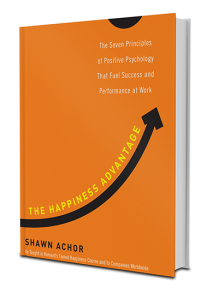 One of my favorite authors in the field of positive psychology and happiness in the workplace is Shawn Achor. As a fellow speaker and author I personally enjoy his style of writing and speaking, but it is for his content and very actionable advise that I spend this weeks' show recommending his work.
Achor teaches and does research at Harward University where he started the now famous Happiness Course in 2006. Besides Harward he is working as a consultant helping companies become happier workplaces, and he is now the author of several books, the first being the international bestseller The Happiness Advantage.
In this book Shawn Achor lays out the many advantages of cultivation happiness, and shows solid numbers to support the claim, referring to both his own work and that of other researchers in the field. Just one such study showed that happy doctors were 19% faster at making an accurate diagnosis(!), and happy college graduate end up more succesful later in their careers than their less happy classmates.
The book then goes on to describe seven principles that you as an individual can use to help reap the benefits of happiness, including changing your mindset (principle 2, The Fulcrum & The Lever), Failing Up (principle 4, on dealing with setbacks) and The 20 Second Rule (principle 6), about overcoming the limitations of willpower.
In this weeks' episode of The HappyWays Podcast I take a closer look at the book and share just af few of the key points. Because of the value of the information presented as well as the many straightforward, actionable tools I strongly recommend the book to anyone looking to increase happiness at work, as well as in life.
Listen to the episode in the player above, or find it in iTunes or on Stitcher via the cool buttons. For the old school way of doing things, you can download the episode as an mp3 here. Get the book on Amazon, or (like me) as an audiobook on Audible. For the full list of podcast episodes visit this page.